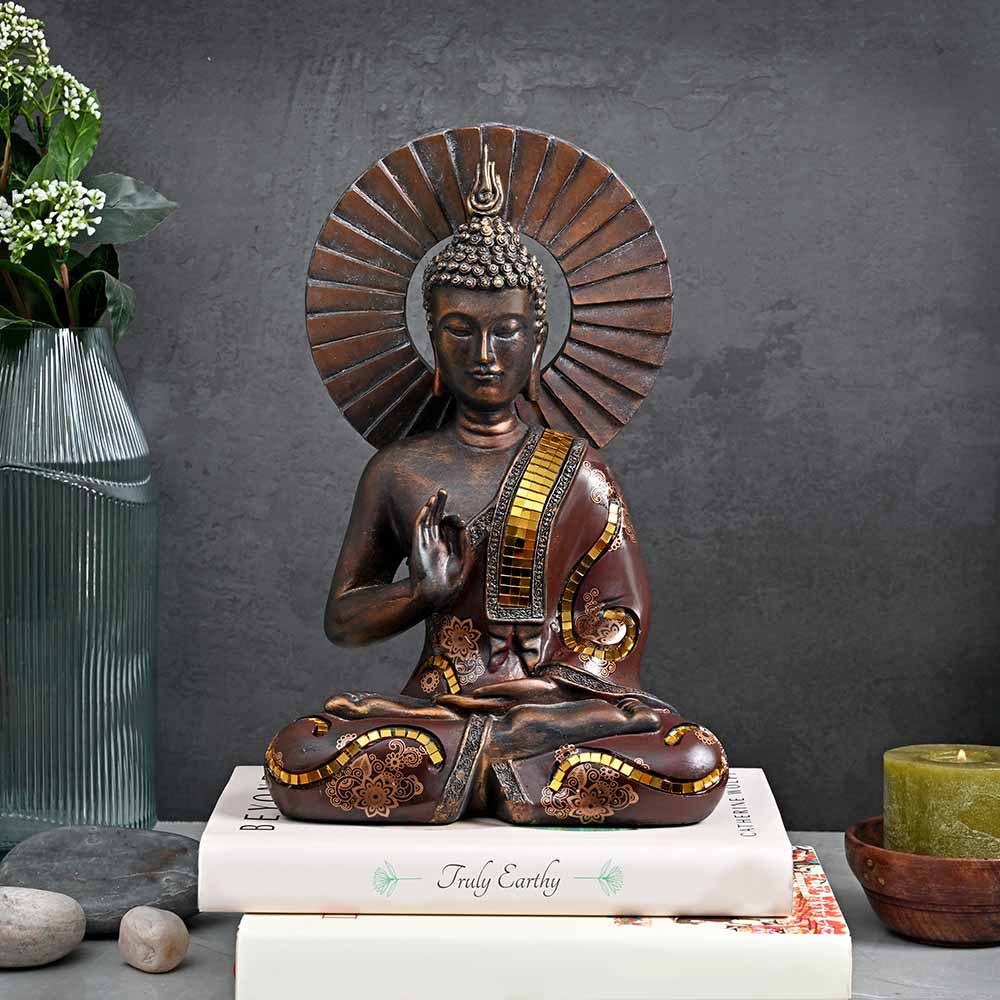 10 products
Buy from the most exceptional array of Buddha statues available online in India.
Infuse your home with serenity and elegance from our highly exclusive and opulent collection of Buddha idols.
Buddha décor, Laughing Buddha décor
The statue of Lord Buddha is a symbol of peace, prosperity and divinity. Buy a Buddha statue to bring the divine blessings of the enlightened one into your home.

The statue of Lord Buddha can be placed in the bedroom décor, yoga room, living room, main entrance area or garden area. You must be mindful that you place the Buddha artifact on an elevated surface where it meets the eye and not on the floor. However, it shouldn't be kept in the kitchen, laundry room or store room.

Buddha sculpture

There are various forms of Buddha statues and Buddha sculptures available on Truly Earthy. Each state of Buddha has a special meaning and significance behind it. For example, the
 

meditative Buddha

 

is placed in home decorations for dhyana as it is believed to eliminate any attention blocks. Similarly, a

 

praying Buddha

 

statue with both hands folded in prayers stands for faith and piety. Therefore, it is ideal for placing the ethereal figure in your pooja room. Finally, a

 

laughing Buddha

 

is considered the ultimate symbol of happiness, taking away any problem and life fulfillment.

Buddha Home Vastu

According to Feng shui, Buddha statues should be placed in a specific direction to leverage their energies' full benefits. And there are places in homes and offices where one should avoid keeping Buddha décor. Ideally, the Buddha statue's best direction should be east-facing. The
 

reclining Buddha

 

signifies liberation from worldly duties. It should be placed towards the right, facing the west. It can bring peace and harmony to your home.
Buddha for Gifting
Many worry about whether one should gift or receive Buddha statues as décor gifts or not. The answer is; it is excellent to give Buddha statues as wedding gifts, birthday gifts, anniversary gifts, and housewarming gifts. Furthermore, you can choose a Buddha sculpture according to the occasion, making it a perfect gifting option.