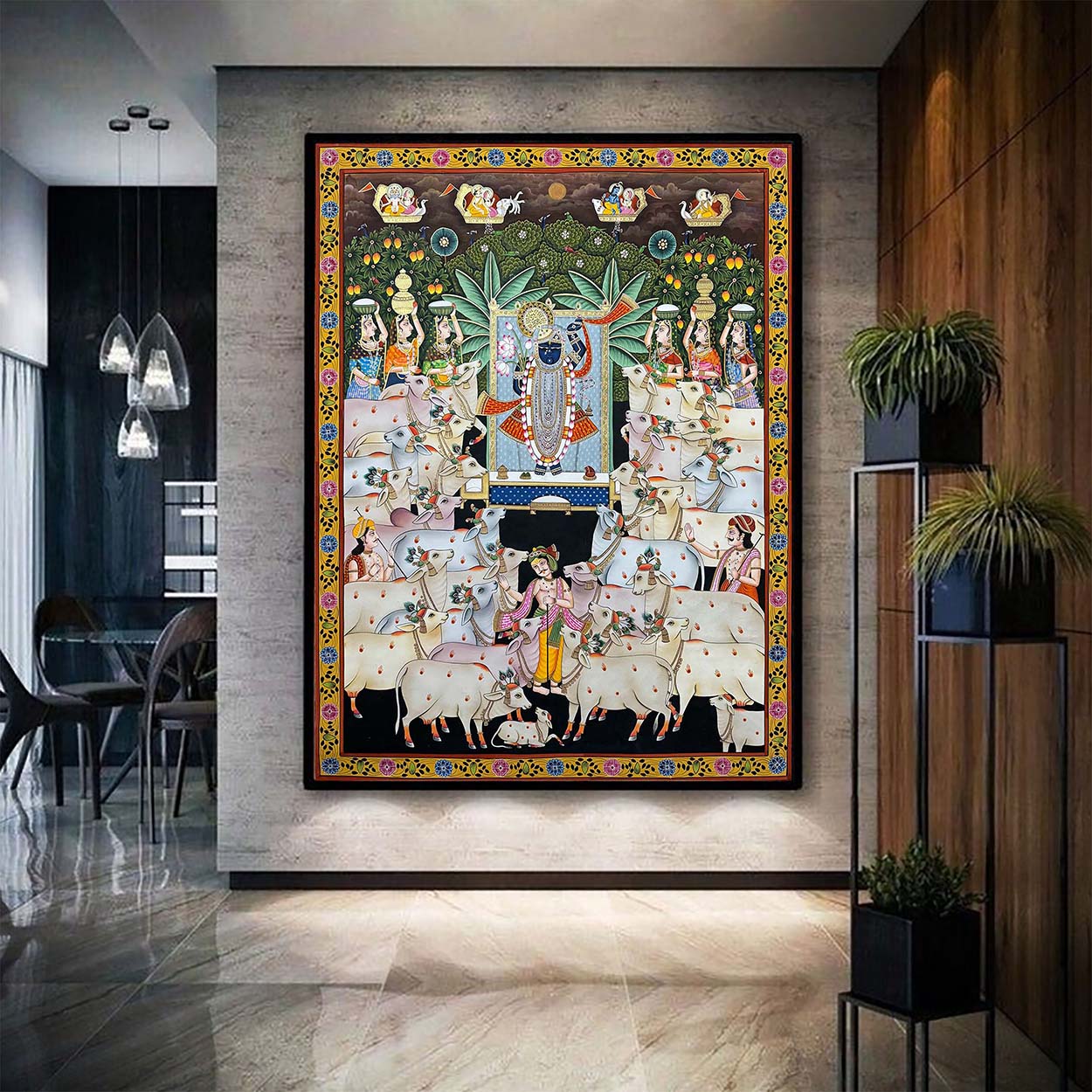 48 products
Pichwai Paintings, Krishna Paintings, Shrinathji Paintings, Traditional Paintings for Online Sale
Explore the enchanting realm of Rajasthani heritage through the timeless artistry of Pichwai Paintings, available online in India. Immerse yourself in our thoughtfully curated assortment of handcrafted masterpieces. Elevate your surroundings with our exquisite selection of Pichwai, Shrinathji, and Krishna Paintings. Begin your journey of artistic transformation now.
Buy Pichwai Paintings Online - Truly Earthy
Pichwai Paintings has a rich history dating back to 400 years, originating from the Nathdwara temple in Rajasthan. It was created in 1672 when a deity of Lord Krishna as a 7-year-old was being transported to Nathdwara and the bullock cart got stuck in the mud. This was seen as a divine intervention and the temple was built there. Pichwai paintings are dedicated to the worship of Shrinathji and depict various scenes from his life. The term "Pichwai" means "textile wall hanging at the back" in Marwari. The Nathdwara temple has a long tradition of hanging Pichwai paintings behind the deity. Today, Pichwai art has spread beyond the temple walls and can be found in homes and offices, as well as on various items such as cushion covers and carpets. Despite its popularity, the intricate beauty of Pichwai paintings remains unaltered.
Pichwai paintings are magnificent works of art, typically created on a large canvas. The process begins with a rough sketch drawn on handspun starched cotton cloth, which is then filled with vibrant colors. To enhance the beauty of the painting, gold threads or crystals may be added, depending on the desired Pichwai style. These paintings make for stunning wall decor, perfect for pooja rooms or living rooms.
The traditional approach to Pichwai paintings used natural materials such as goat, squirrel, or horse hair for brushes, and obtained colors from natural sources such as stones, coal, zinc, indigo, saffron, gold, and silver, a process that could take up a long time.
The rich color palette of Pichwai paintings, consisting of red, yellow, black, and green, imbues the art with a vibrant energy, making them a beloved and iconic form of Indian art.

Pichwai paintings are a celebration of devotion to Lord Krishna, capturing his essence through a rich tapestry of symbols and brilliant colors. These works of art may seem cluttered, but they never detract from the central figure of Lord Krishna, also known as Shrinathji. A portrait of Shrinathji is one of the most coveted types of Pichwai paintings. One of the defining features of Pichwai art is the depiction of Krishna's 24 divine avatars, known as Chowbees Swaroop, often seen as miniature paintings along the borders of the canvas. Today, some artists have reimagined these avatars as standalone Pichwai paintings, infused with decorative elements from Mughal art, creating unique and captivating works of art.

Pichwai art has evolved to include smaller and more accessible works, while still capturing the essence of its grand origins. These smaller pieces feature iconic motifs like lotuses, cows, trees, peacocks, and gopis, each with its own symbolic significance. While Pichwai art originated in a temple, it is not necessarily religious in nature, making it suitable for display in a variety of spaces including living rooms and offices. These stunning works often feature tranquil scenes of nature, including lotuses, peacocks, and cows, making them an excellent choice for large wall art in living room decorations.

The Summer Pichwai paintings are a distinct category of this art form, typically created during the warm months of the year. These works of art feature Lord Krishna, depicted in verdant landscapes surrounded by tranquil ponds, birds, dense trees and lotuses, offering a refreshing escape from the heat. Some of the most renowned Pichwai paintings depict scenes from Nand Mahotsav, which celebrates the selfless love of Nanda and Yashoda towards their young son. Similarly, the Daan Leela festival is also depicted in Pichwais, narrating the story of Krishna stopping the gopis and demanding a toll of milk and curds as they pass through Vraj. These paintings are made in honor of the Daan Ekadashi festival celebrated at the Nathdwara temple.

Pichwai art is a rich and diverse form, reflecting various festivals and significant moments in Lord Krishna's life. One of the popular themes is Sandhya Aarti, which depicts the evening lamp-lighting ceremony, symbolizing Lord Krishna's return from herding cattle. Another popular theme is Morkuti Pichwais, which celebrate the arrival of the monsoon season and show peacocks dancing around Lord Krishna in delight. There's also a category dedicated to the festival of Gopashtami, marking Krishna's promotion from herding younger calves to adult cows. These paintings, which feature cows prominently, highlight the significance of cows in Lord Krishna's life. From Nand Mahotsav to Daan Leela, Pichwai art captures various celebrations and festivities in a beautiful and ornate manner, showcasing the love and devotion of the devotees towards Lord Krishna.

In contrast to other Pichwai paintings that typically depict Shrinathji, Vrikshachari Pichwai artworks showcase Krishna's presence in a different form. Instead of depicting the deity, these paintings depict Krishna as a Kadamba tree, surrounded by gopis holding flowers, peacock fans, and garlands.